Charging cable type 2 to type 2

For your electric car or your e-hybrid including a high-quality storage bag!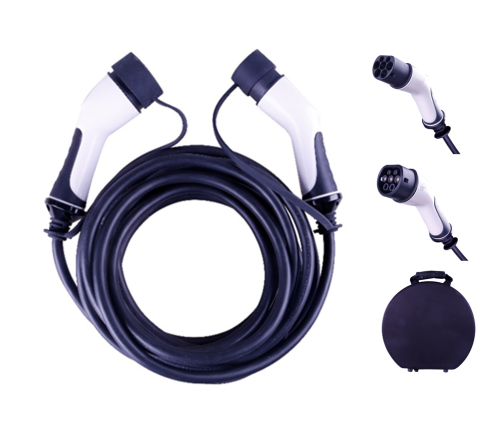 With this quality cable, you can easily connect all vehicles with a type 2 plug to public charging stations or to wall boxes with a charging socket if there is no connected cable.
The type 2 plug is a plug common in Germany for charging electric cars. It is suitable for both single-phase and three-phase AC and DC charging processes with a voltage of no more than 480 volts and a cross-section of 5CX6.0mm² + 2X0.75mm².
The charging cable has the following certifications:
EN62196-1: 2014 and EN62196-2: 2017
IP54 when not plugged in and IP55 when plugged in
IEC62196-2: 2016
Your advantages?
+ 5 meter cable length
+ including high-quality storage bag
+ unbeatable price!
+ single-phase and three-phase charging possible
You can find this type 2 charging cable for e-cars and e-hybrids in our online shop: https://shop.bwidee.de/E-Autos-laden/Ladekabel-fuer-E-Auto-5m-glatt::2302.html?MODsid=30bffb5d8215a37e0a5b1065872f4df1
Mobile wallboxes: NRGKick charging unit
Everything you need to charge your e-car.
CHARGE IMMEDIATELY - WITHOUT INSTALLATION
In contrast to stationary wall boxes, which require expensive installation, NRGkick can be used immediately on any standard socket - regardless of whether it is a Schuko or three-phase socket!
LOAD FASTER
NRGkick charges your customers' e-cars with the maximum possible AC charging speed of up to 22kW - almost ten times faster than most other mobile charging units.
FULL FLEXIBILITY
Do you need to charge the electric car somewhere else in your garage or workshop? No problem: NRGkick is mobile and can be plugged in and unplugged at any time and easily taken with you.
THEFT & MANIPULATION PROTECTION
NRGkick is protected against theft even during and after charging and offers comprehensive protection against improper or accidental adjustment of the charging current.
MAXIMUM SECURITY
NRGkick and the intelligent plug attachments ensure maximum safety. NRGkick is not only fully compliant with the standards, it also offers many other safety features: Overrun protection, temperature monitoring, reverse polarity protection, hot-unplug protection, IP67 waterproof, earth conductor test, switch contact diagnosis, charging current limitation when adapting and other measures ensure that you and the e-car are safe. Other charging solutions only offer a few of these security features, but NRGkick all of them! A pull-off detection is integrated. The new NRGkick is the only charging unit on the market in which the flow of current is interrupted in the event of an arcing, even before the contacts leave each other - thus preventing arcing!
The temperature is monitored. NRGkick records the temperature on every phase pin of every plug attachment, with Schuko plug attachments the measurement is made on both pins. This means that charred sockets are a thing of the past! The charging unit automatically detects which plug attachment is being used and, if necessary, corrects the charging current to the highest possible country-specific value.
You can find all NRGKick products in our online shop: https://shop.bwidee.de/E-Autos-laden:::248.html
If you have any questions, please call us or write us an email. We are looking forward to your contact.