Doohan iTank Goodyear ego2 electric scooter

Electric scooters are inexpensive means of getting around the countryside and a smart way to get quickly through busy cities. Our focus is currently on the Doohan iTank EGO2 electric scooter with Goodyear branding. The three wheels at the front reduce the risk of slipping and double the braking force. The 60V 26Ah battery allows a maximum range of 30-50km depending on the external conditions. The battery can be charged in the vehicle or removed for charging. Top and side cases optionally increase the storage space.
You can find our video presentation of the Doohan iTank electric scooter here: https://youtu.be/BGParBgW_C0
We also provide the following videos for you:
Imagevideo: https://youtu.be/6byXR3ZsKE4
Electric scooter Goodyear Doohan iTank EGO2 Unboxing: https://youtu.be/siv3Ov5QqGY
Electric scooter Doohan iTank EGO2 - Assembly instructions for top and side cases: https://youtu.be/lGWdjNrK1Oc
In addition to the Doohan iTank EGO2 electric scooters, you can also purchase all Rolektro products from our partner Soletek from us: https://rolektro.de/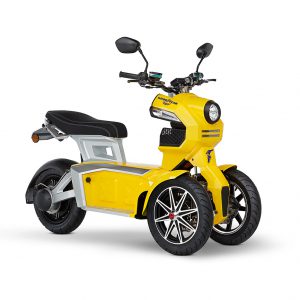 Technical key data:
Motor: Bosch 1500 W
Battery: Lithium battery 60V 26Ah 1560Wh 9Kg
Charger: Standard 60V 5Ah
Charging time: 5 hours
Frame: aluminum
Suspension: front and rear
Brakes: 3 x hydraulic disc brakes
Weight: 108Kg
Range: 30-50 km
Max. Speed: 25 km / h 1st gear, 45 km / h 2nd gear
Max. Load: 160kg
Warranty: 1 year bring-in warranty
Front tires: Kenda 90/90 - 12 inches / rear tires: Kenda 120/70 -12 inches
Optionally, there is space for a second replacement battery to double the range.
In addition to the TOTEM electric bicycles, a clever means of transportation - fast and energy-saving.
It can be obtained from our specialist retail partners: